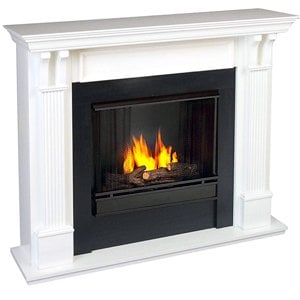 The downside is that unvented combustion; be it from a gas kitchen range, a gas-fired ventless fireplace, or even candles, releases pollutants­ and particles into the indoor air.
If you're not counting on your fire place to provide heat; you can use the look of a gel-alcohol fireplace to give you the hypnotic flame of a wood fire without the dirt.
These appliances are pretty simple. They are basically a steel box with a ceramic log set. They burn gelled alcohol in a can. There are also liquid-alcohol fireplaces, many of which have no log set.
The big advantage of these fireplaces is that they don't require a flue; so they can fit almost anywhere in the house. In some cases, you can also retrofit an existing fireplace to burn gel or liquid alcohol.