Decorated Life is reader-supported. When you buy through links on our site, we may earn an affiliate commission. Learn More
Luxury Furniture & Accessories for Luxurious Living Rooms
By: Decorated Life Team
|
Source: Zillow
Great Luxury Furniture Looks
Luxury furniture makes a room stand out, but the best designed rooms are so comfortable people never want to leave. This post is all about adding that special feeling of luxury to your rooms.

There are lots of ideas, including making your own antique mirrors, updating your table tops or buying luxury furniture online – with gorgeous results.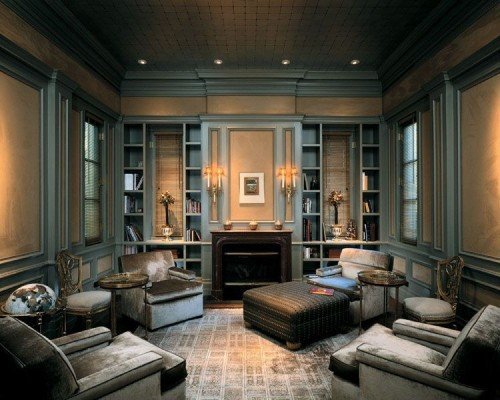 Source: Florian Architects
Its about adding a touch of unconventionality and curiosity to update and bring your space together and being happy with the end result.
Furniture, whether expensive, handed down, well worn or just well crafted is perfect if it creates a feeling of luxury. You don't need a room overflowing with luxury brands. Instead look for things that pull together, making your living room feel glamorous and classic, while still being comfortable and relaxed.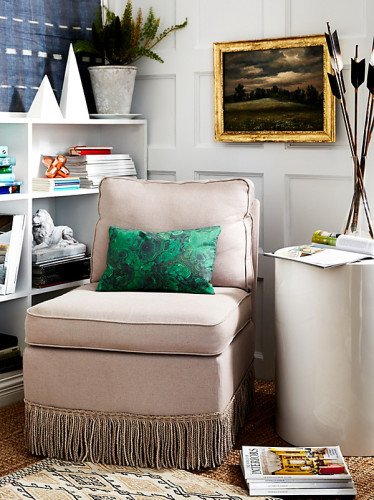 Source: One Kings Lane
Why not add spectacular trim to furniture for an added sense of style? It's also a great way to hide less than perfect legs! You can glue or staple your trim, on a simple sofa, chair, ottoman, curtains or tablecloth. Its easier than you think.
What is Your Luxury Style Star Sign?
It all starts with the style and mood you want to create. Are you in more of a traditional or transitional, mid-century, art deco or Rococo state of mind? Blend these styles and create your own luxurious inviting rooms.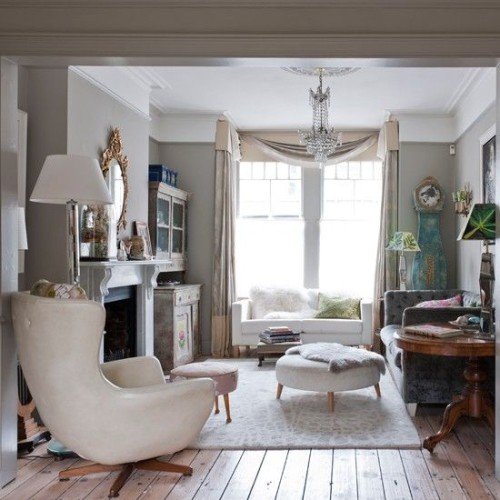 Source: housetohome uk
Some styles lend themselves more towards glamor. Art Deco-style furniture can be more luxurious than minimalist. Victorian furniture or mahogany looks richer than oak or bamboo. But too much of any style can look pretentious or trying too hard.  First, work out where you want your luxury to come from; is it your furniture, accessories, floor or wall coverings?
Some styles are more budget friendly. New floors might be perfect but painted checker board or stenciled floors could create the glamorous look you want.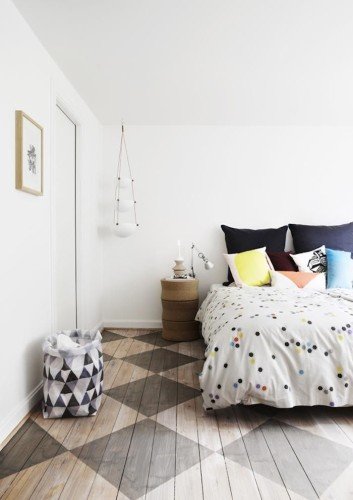 Source: Remodelista
Blending and layering styles is more fun, adventurous and wonderful to look at.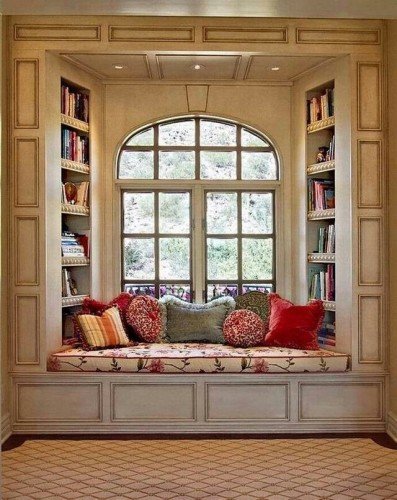 Source:  Mari Carmen Valero
Alone, expensive ornate furniture, particularly sofas and chairs, radiate luxury but often miss out on comfort and warmth. Keep the essentials like flooring, wall coverings and furniture comfortable and easy to maintain and use luxurious details like thick colorful curtains, decorative vases, opulent pendant lighting or richly painted furniture.
Why not have an elaborate mantelpiece or trim work, gorgeous rugs or paneling while keeping sofas and armchairs less opulent, easier to look after and more comfortable?
You can buy luxury furniture for less by shopping smarter and putting a look together in ways that looks beautiful and effortless.
Luxury Living Rooms
Creating a luxury living room is not as difficult as it sounds.  Often the living room is one of the most important rooms in your home, which means it can be one of the most expensive and difficult to decorate.
Luxury living room furniture is available in high end furniture stores, online and offline luxury living room catalogs. A room full of luxury Italian furniture isn't necessary if you can customize, rework and reinvent the pieces you already own.
Remember Decoupage? This table was upcycled using simple decoupage! All you need is some stunning fabric, Mod Podge to glue it to your table top and once dry, apply three coats of water based polyurethane on top of the fabric. Make sure each coat dries completely between applications.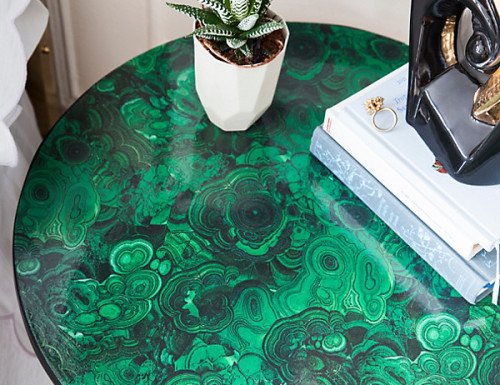 Source: One Kings Lane tutorial
Layering your room with luxury living room ideas and with what you already own helps you create the most fabulous pad without breaking the bank.
Pictures of Luxury Living Rooms – A Sense of Space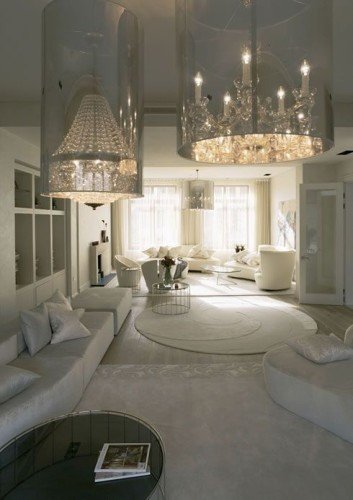 Source: Pinterest
Truly luxurious rooms have a grand sense of space. Start by eliminating things you don't need; extra books, remotes or small tables or chairs that clutter the room. This gives the room space to breathe. Next; remove or update pieces that look tired. If you can put a new slip cover or lamp shade on it – because you love the shape or its what your budget can afford – then do it.
If you have a small living room and removing furniture means you will be sitting on the floor –  go cozy!
Luxurious Living Room Decorating Ideas – Create Focal Points
To make the most of your living room, giving it a delicious sense of luxury, create a focal point that you can see as you enter. This grounds your room and sets the tone. If you are lucky enough to have a living room with a spectacular view of a garden, city skyline, sea or sky – make that your focus – reducing clutter, curtains or furniture that get in the way from the pure magic of your vista.
Source: Zillow
If you don't have one of these 'magic bullets' – cheat and create your own! Add features; moldings are great addition to a feature-less entry or living room or a spectacular piece of art or pendant light.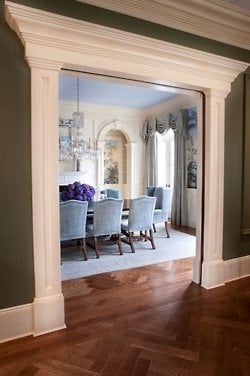 Source: Sweet Tea Southern Dreams
Add something 'over sized' to make a statement; a large mirror, a piece of art, chandelier,  fireplace or a huge armchair, a hit of color or something shiny like a gilded table or spectacular mirror ..  don't hide it – make it the piece everyone sees when they first enter the room.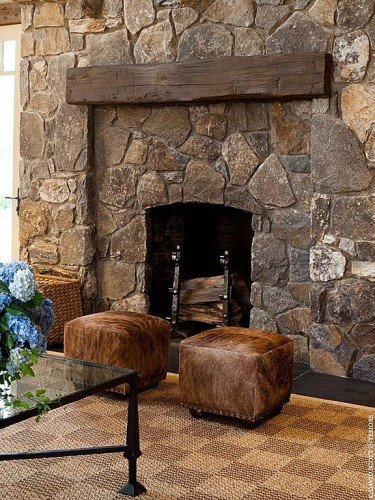 Source: Zillow – David Scott
It might mean painting the fireplace black, replacing the mantel so it has over sized curves that ooze 'ornate' or covering your fireplace with richly textured stone work.
Next – create smaller focal points in other parts of the room, making sure you have some height variations. Depending on the size of your room; three to five focal points works well in a triangle or hexagon shape; so all the attention, color and pizzazz isn't placed on one side of the room.
Don't ignore texture; layering texture and color can create a really spectacular look. Luxury living room design is not about how many fine and expensive materials you can add to your rooms but about a style and color, textures and finishes.
How to Add Luxury to Your Rooms
When it comes to adding decorative accessories; think of arranging them as three-dimensionally as you possibly can. Add things together with different heights – rarely in a row, but in front, behind or crossing over. It's more fun.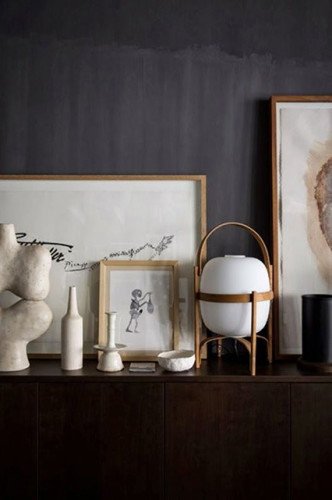 Source: refinery 29
Think Hardware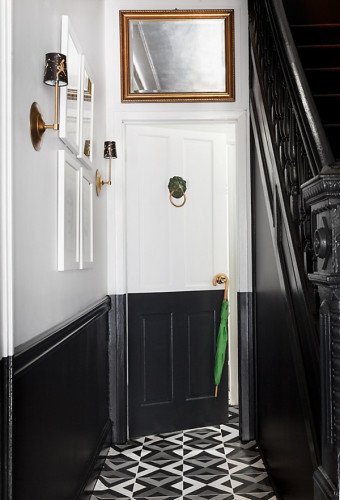 Source: One Kings Lane
One of the easiest ways to add some luxury is to add interesting hardware. It can be installed in the blink of an eye and instantly transform a piece.  Mix and swap hardware; like using a large wall hook instead of handles on a wardrobe.

Gold and Glass Glamor
Slide some glamorous, high end wallpaper between a piece of glass, or maybe a mirror, to your table tops. This also adds light to your room by reflecting light from your table lamps.
A little gold paint never goes a stray. It adds luxury to your living room without breaking the bank. Paint a lamp base, detail a book case or table, the ideas are endless.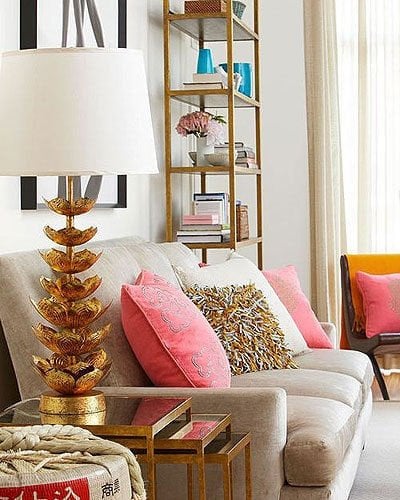 Source: Pinterest
Not owning major pieces of artwork doesn't mean you can't create a glamorous look. Create a gallery wall of photos as a chic focal point. There are so many ways you can do this by following a few simple guidelines and steps.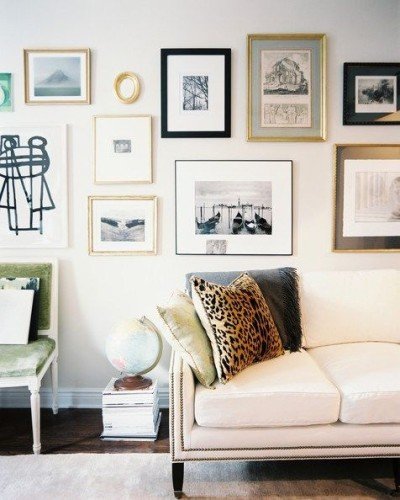 Source: Lonny
What about a gallery wall made of different sized and shaped antique mirrors? To do this with real antiques would be very expensive but you can make your own for a fraction of the cost.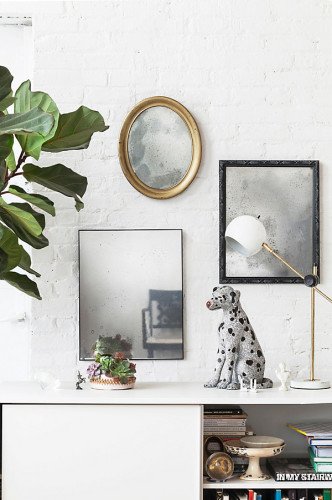 Source: One Kings Lane
First, collect a few simple glass framed items in different shapes and sizes. Thrift stores or garage sales often have inexpensive frames if you are looking to add to your collection. To create your antique mirrors you need:
white vinegar

A can of black spray paint

A can of gold spray paint

Krylon Looking Glass Spray

A glass frame

A spray bottle

Paper towels
First, fill your spray bottle with a cup of vinegar and a cup of water. Clean the glass on each frame. Working on a flat surface, lightly spray the back of the glass unevenly with the vinegar-water solution. Use the looking glass spray to coat the misted surface. It goes on gray but dries with a mirrored finish. When it dries, blot with a paper towel to remove remaining water drops. Here's a video to show you how.
There are so many beautiful consoles to buy here but if you want to make your own try this look below. It's perfect if you have a small living room or entry.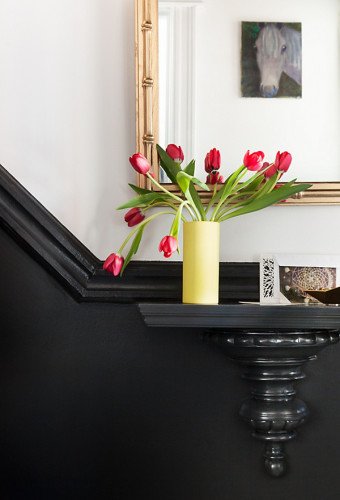 Source: One Kings Lane
Have fun creating your living rooms filled with luxury. These ideas should get you on your way. To find more luxury furniture ideas, accessories and someone to help you put it all together click here.