Decorated Life is reader-supported. When you buy through links on our site, we may earn an affiliate commission. Learn More
29 Farmhouse Living Room Ideas in 2021 – A Charming Style
The farmhouse design is a style that focuses on the past and how our pre-technology farming generations decorated their homes.
Farmhouse decor is all about mixing comfort and practicality by using natural materials like reclaimed wood, stone, and wicker. The color scheme is warm, with a lot of cream, beige, and whites; it's rare to find bright, bold colors in a farmhouse.
The key with this style is to not go overboard; use only some of these ideas, or you risk straying into country kitsch territory.
Use Reclaimed Wood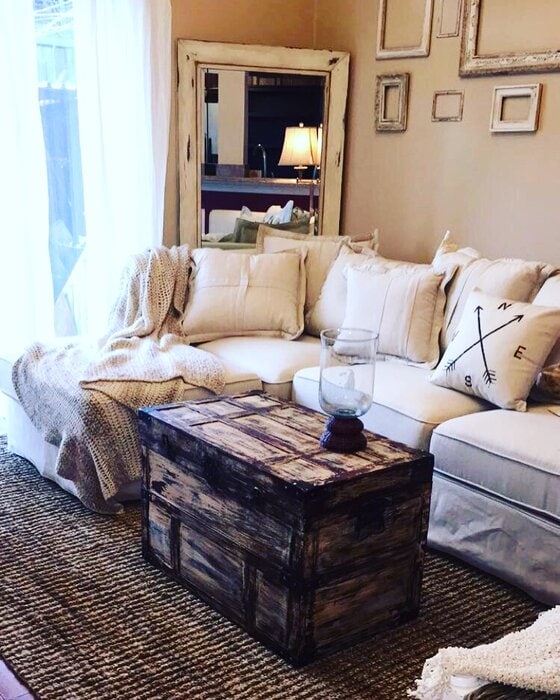 Farmhouse living focuses on reusing materials and what better way to show this than by using reclaimed barn wood for major pieces like this coffee table or accent wall. The reclaimed wood wall is done really well here by using different wood grain boards for a mismatched appeal.
Don't worry about getting your wood finished or varnished. Make sure it's well-sanded so you don't get splinters, but the natural wood of this coffee table needs no embellishment.
Keep Your Wood Beam Ceiling Exposed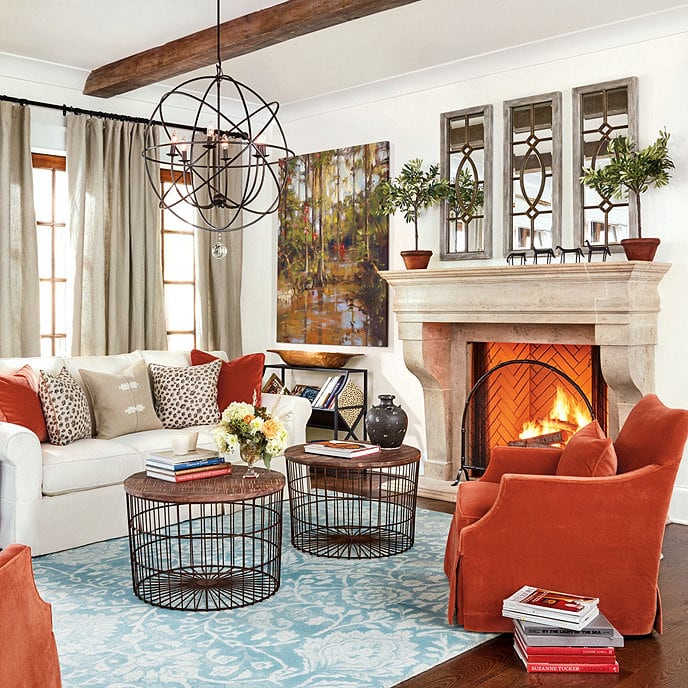 If you're lucky enough to have a natural wood beam ceiling, keep it exposed for the classic farmhouse look. If you don't, consider installing some thick wooden beams across your ceiling to create this rustic charm.
You can add only a few lengthwise or install them in a lattice pattern. Be careful with this approach, though, because if your ceilings aren't high enough you risk making your room appear smaller.
Add Some Rustic Floating Shelves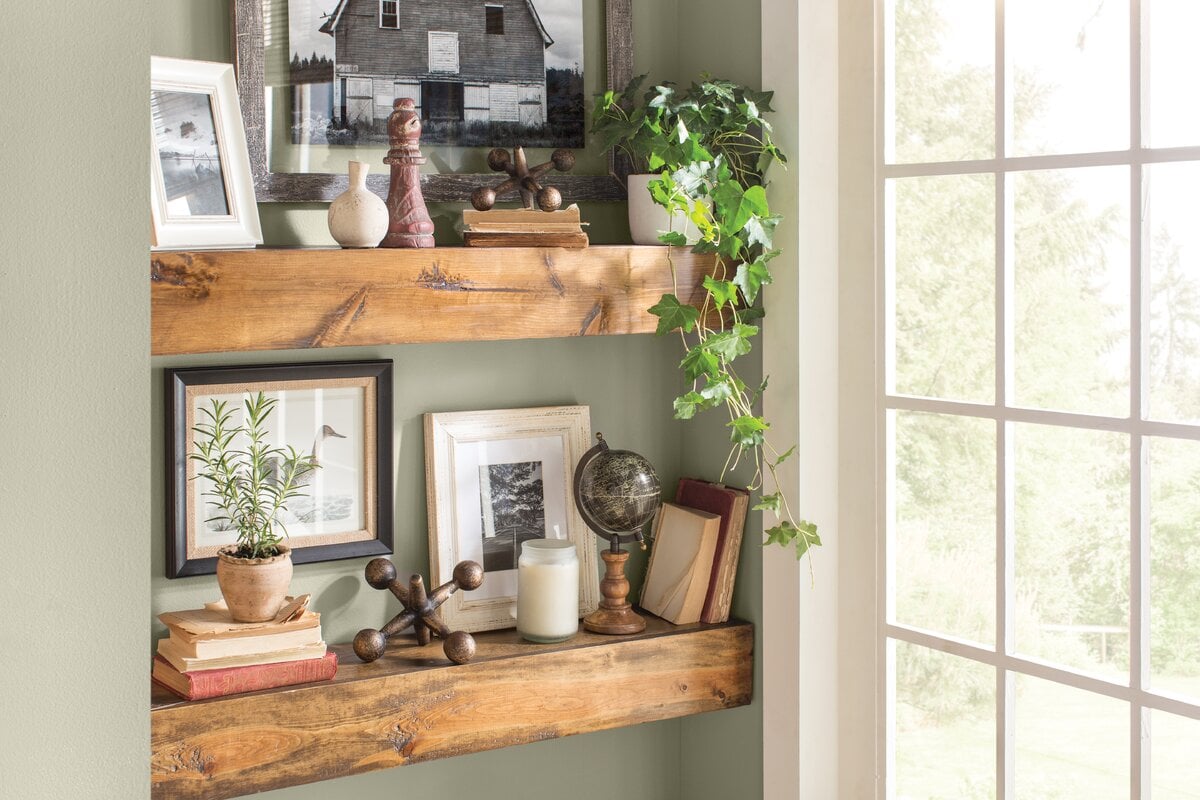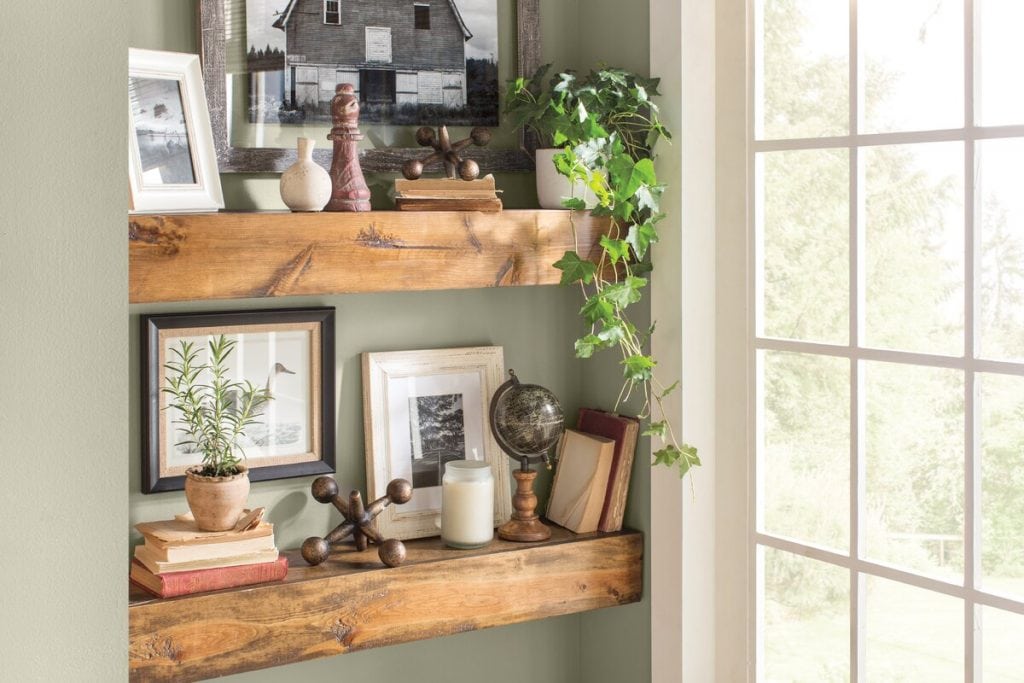 Floating shelves are gorgeous when they're made to look like a weathered wooden beam like you'd find holding up a barn.
The open shelving look is a big part of the farmhouse decor style, because it adds to that open and airy feeling. Not to mention, it's a great spot to add decorative items like plants, antique dishes, or vintage finds.
Hang a Window Frame As Wall Decor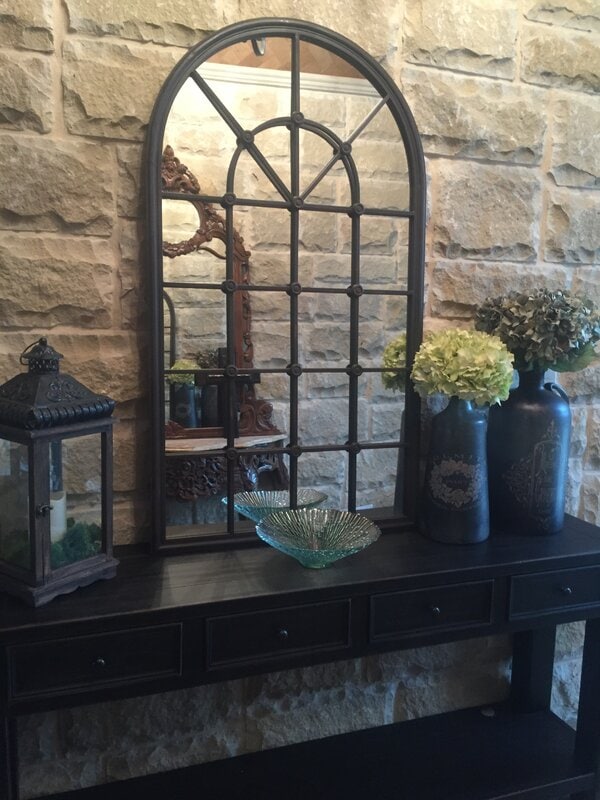 You might be surprised to find out that window frames actually make for great decoration. Instead of hanging up a painting or photograph, consider using a weathered window frame. They look particularly gorgeous when they're mounted to a mirror behind them. .
If you opt to hang it without the mirror, consider hanging a wreath from it or adding some faux foliage around it to add an outdoor element.
Load Up on White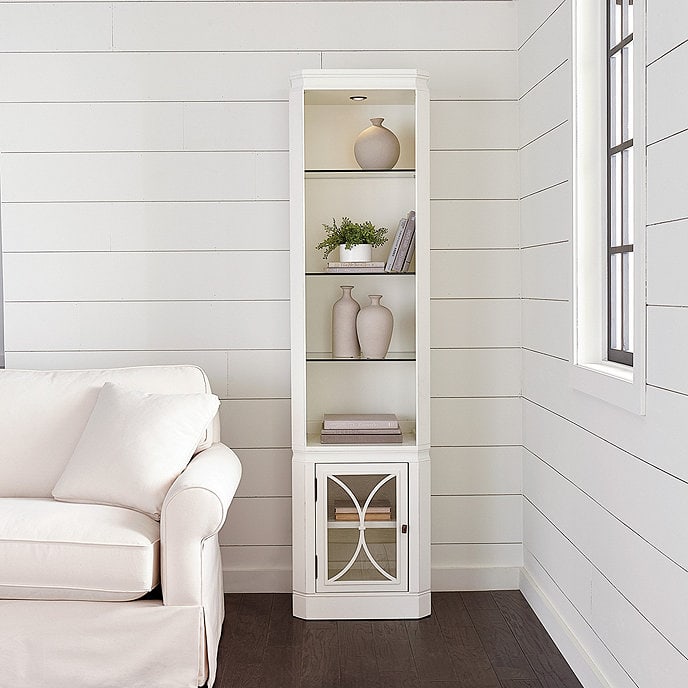 The farmhouse style is all about being light and airy, and there's no better way to get that look than with all white everything.
This is a perfect example of how there's no such thing as too much white in farmhouse decor. The walls, sofa, shelf, and vases are all white but still have depth and texture.
Install French Doors Anywhere You Can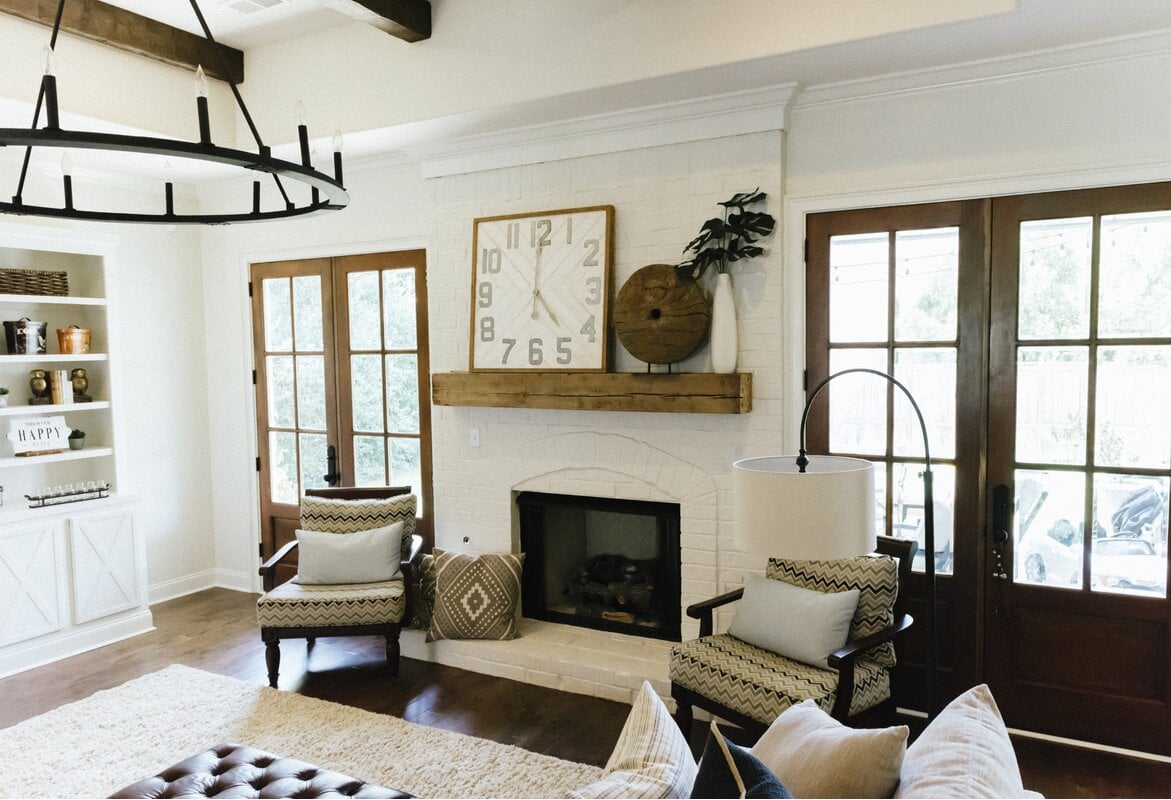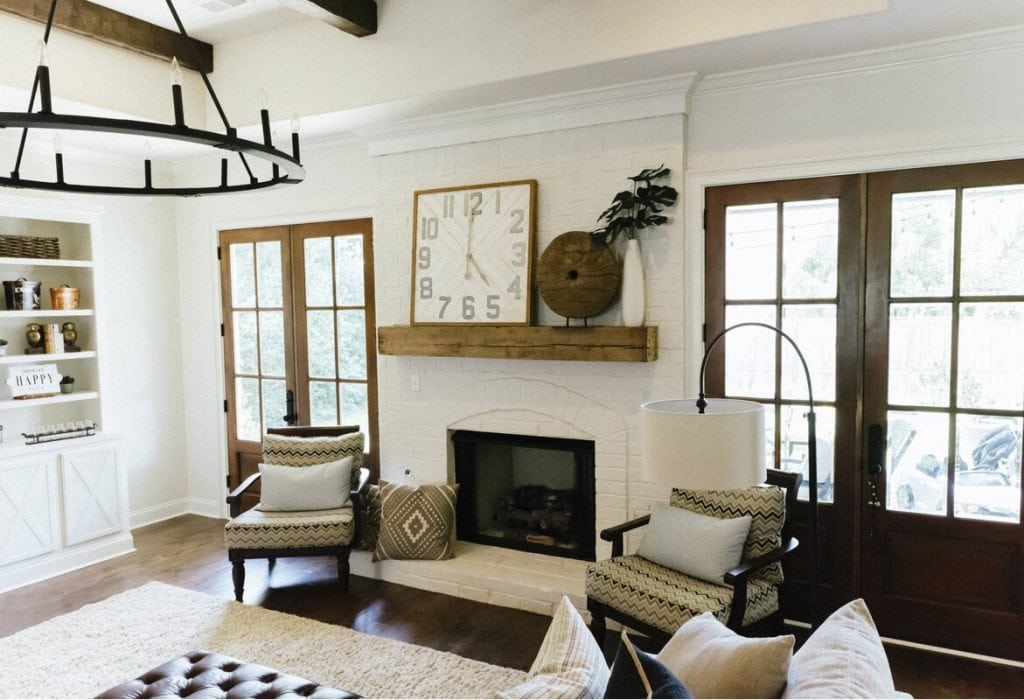 If you're on the hunt for some rustic country decorating ideas, consider adding some french doors to your home.
It's definitely not an easy element to add into a home, but french doors bring in so much natural light and can close off a space without making it feel closed in. They're truly timeless.
Decorate With Farm-Inspired Stems
Cotton, bunny tails, pussy willows. No, this isn't a nursery rhyme, just suggestions for things to display in a vase for the farmhouse chic style.
A farm-inspired plant is something that combines a soft flower with a rough stick/stem. Cotton is a perfect example with the dark stem and fluffy cotton balls flowering from it.
Mix In Some Leather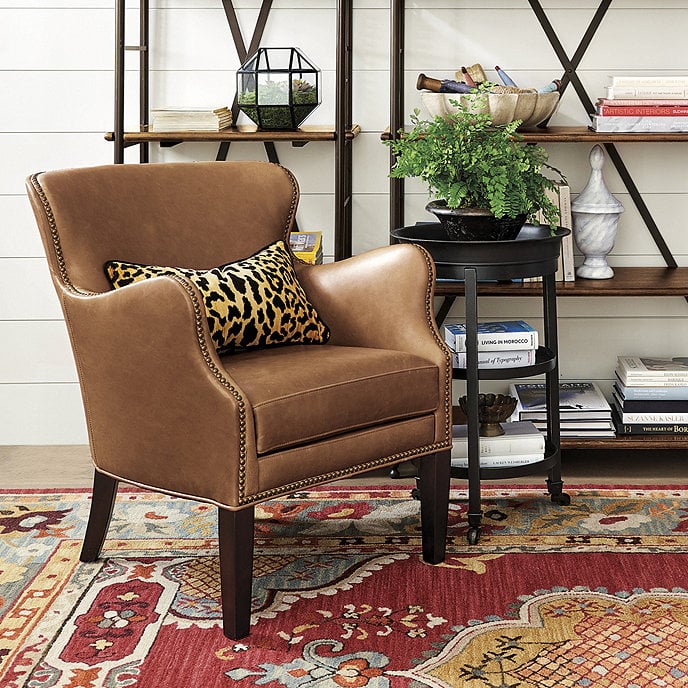 A way to add in a little 'rough' into the overall soft farmhouse chic look is to mix in some leather accents, like these cognac chairs.
You'll want to stick to browns to stay aligned with the earthy rustic feel of the farmhouse style, but you can play around with which shade works best for you.
An Exposed Wall is the Perfect Accent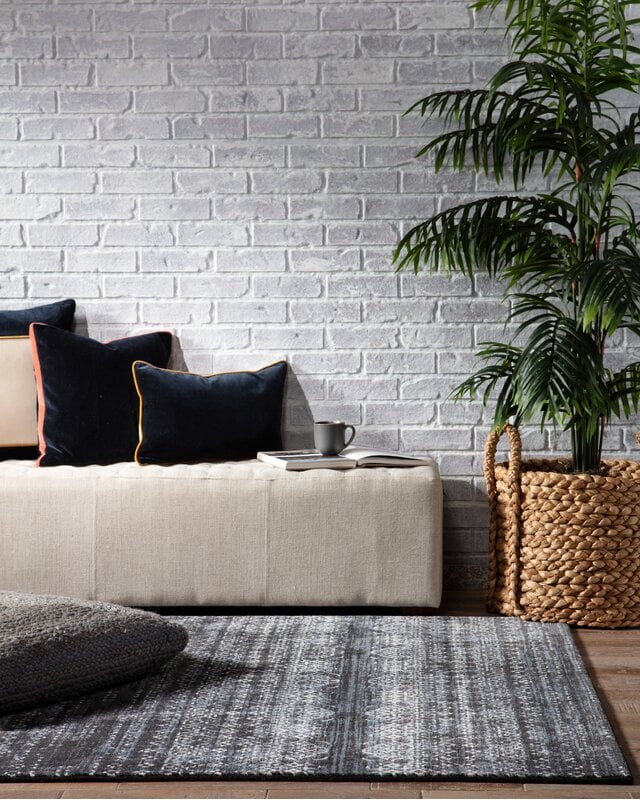 One of the easiest farmhouse decorating ideas is to use what you already have, assuming you have stone or brick walls you can expose.
If you happen to have brick, you can leave it the rusty red color, paint it white, or even grey. The rustic nature and texture will pair well with the soft colors and accents.
Decorate in Warm Neutral Colors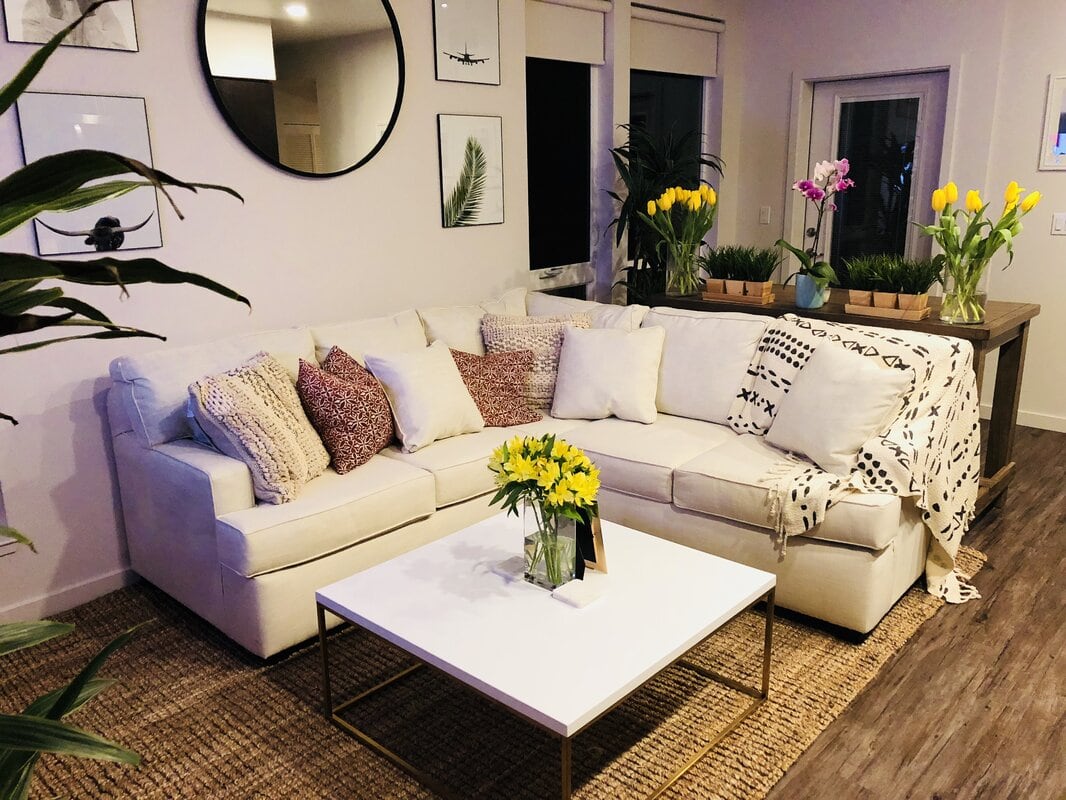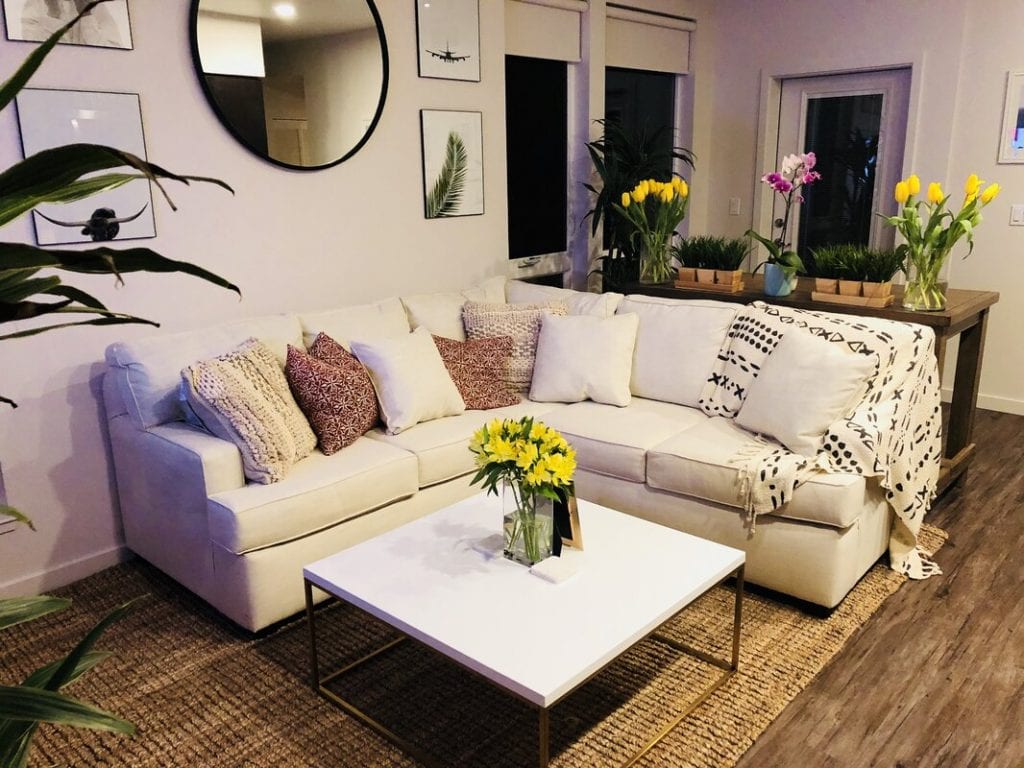 The best color palette for this style is light and fresh, but that doesn't mean your room needs to be white. Look for warm pale tones like oatmeal or warm grays, or add some pale blue accents which go very well with the distressed and natural look of your furniture.
In this room, the light beige and oatmeal tones of the couch make the white of the room seem warmer and more welcoming. The brightly colored flowers are a nice touch because they add in some vibrance without taking away from the farmhouse style.
Shiplap Walls Add a Farmhouse Vibe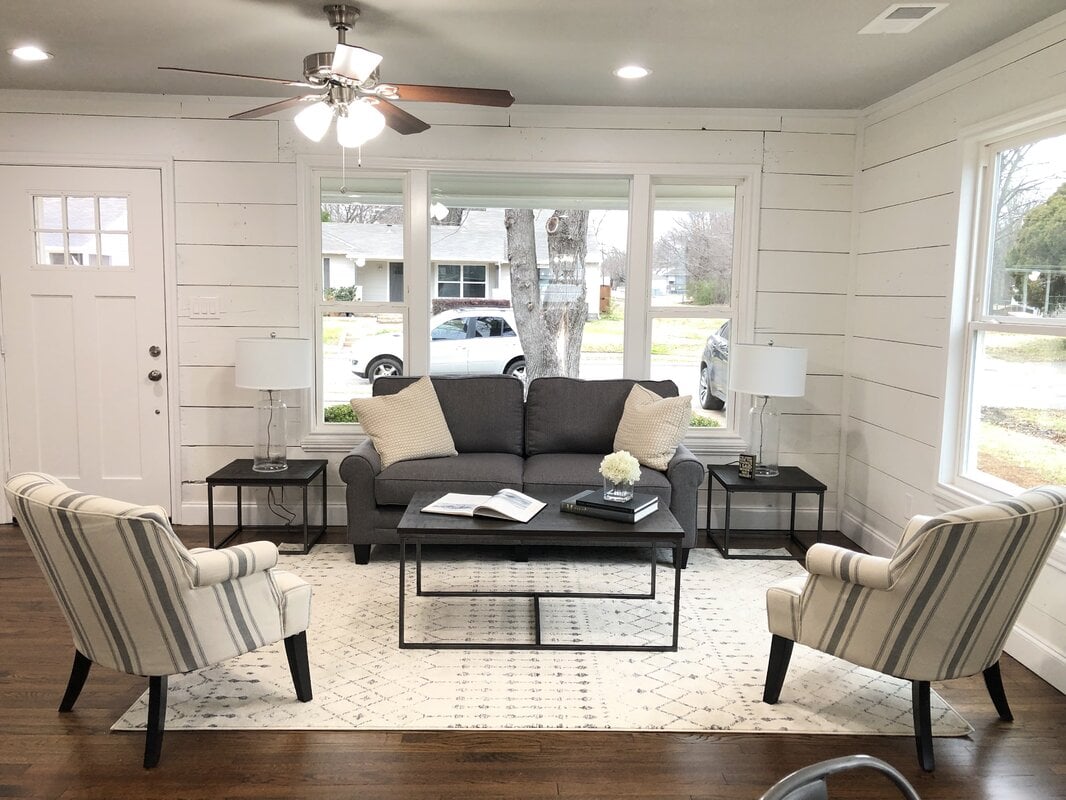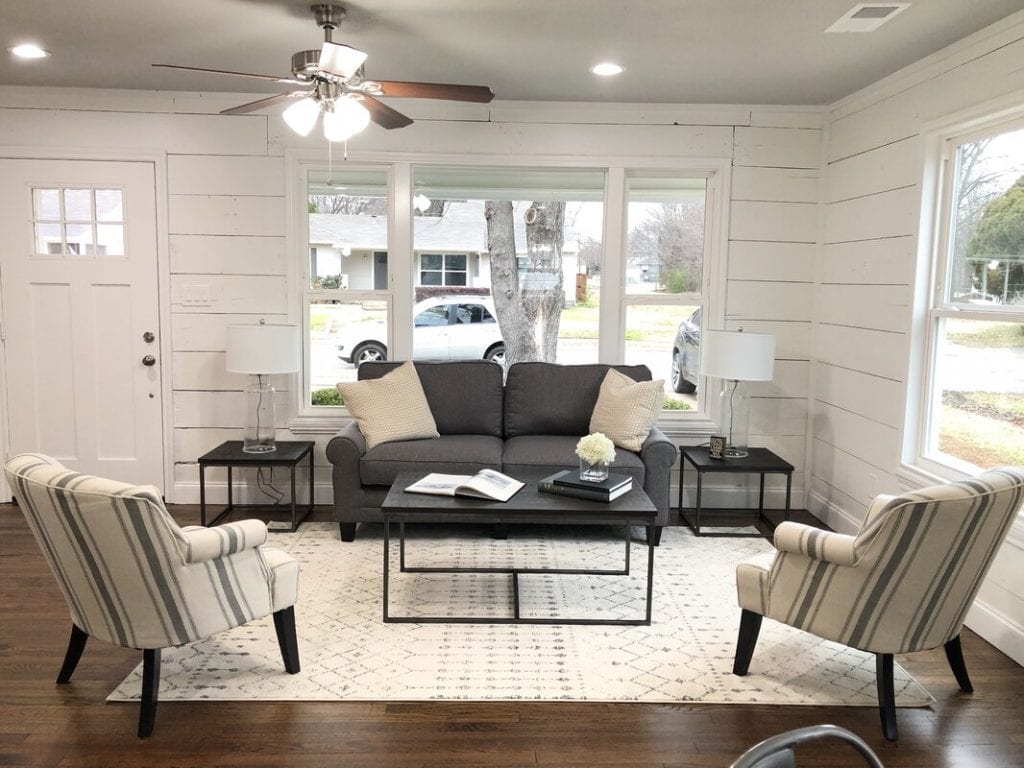 Shiplap is a common rustic decor farmhouse feature. This type of wood paneling is an easy way to make your living room look like a farmhouse from a past era. Pick wooden boards with a few scratches for a feeling of age and wear-and-tear.
Shiplap can be installed vertically or horizontally for different looks. You can also use this paneling style for only one wall, the whole room, or even for your ceiling—the choice is yours.
Hide All Signs of Technology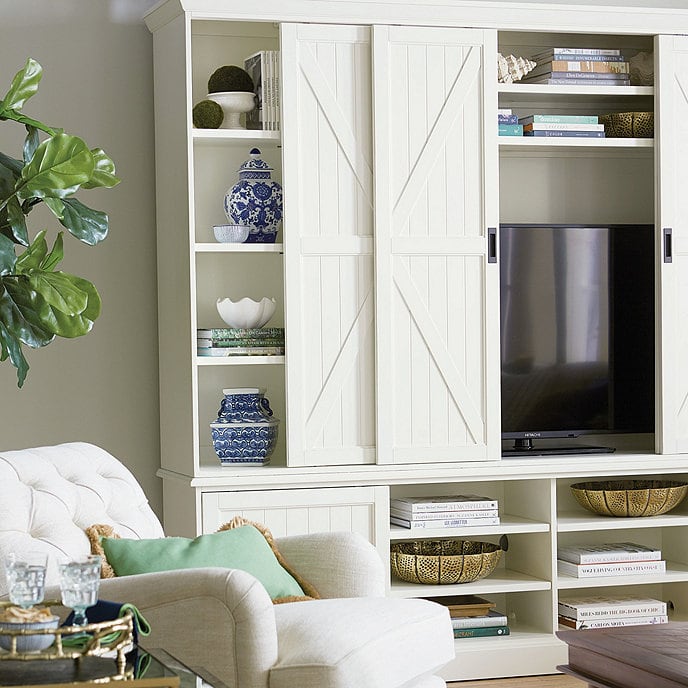 The farmhouse style is supposed to evoke feelings of nostalgia and a bygone time, and a sure way to ruin that vibe is to have a flat-screen TV hanging on the wall.
Invest in a system to cover up technology like this entertainment center with barn door style cabinets. It's functional while still aligned with the room's aesthetic.
Install a Cozy Fireplace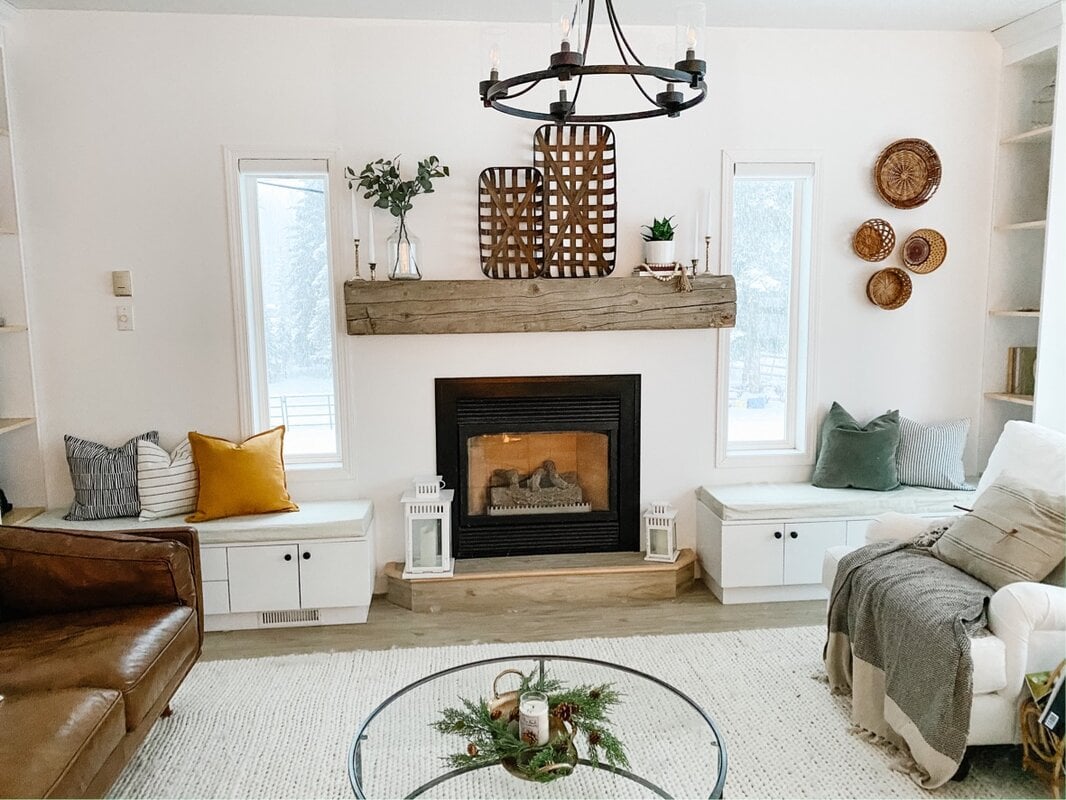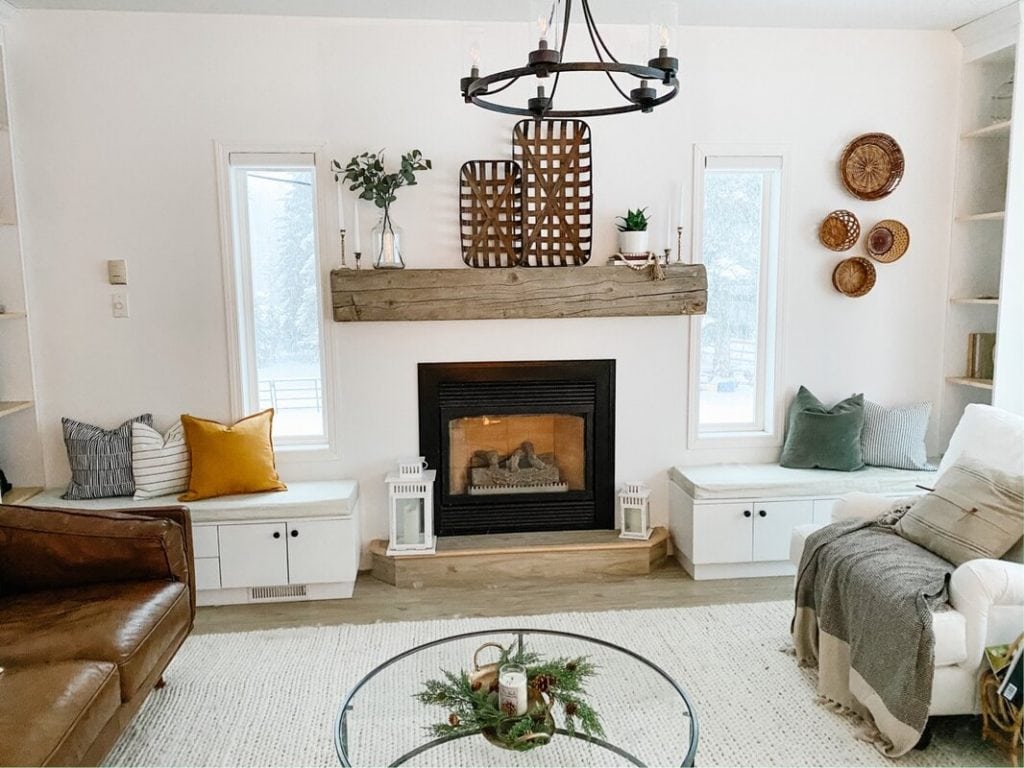 Farmhouses in the past almost all had fireplaces for warmth on cold nights. If you don't already have one, consider installing a fireplace and making it the cozy centerpiece of the room.
Build a nice wooden mantel and add some decor or plants on either side of the fireplace. By arranging your seating strategically around it, you can create a comfortable and inviting communal area to hang out with your loved ones and guests.
Use Accents To Add Some Texture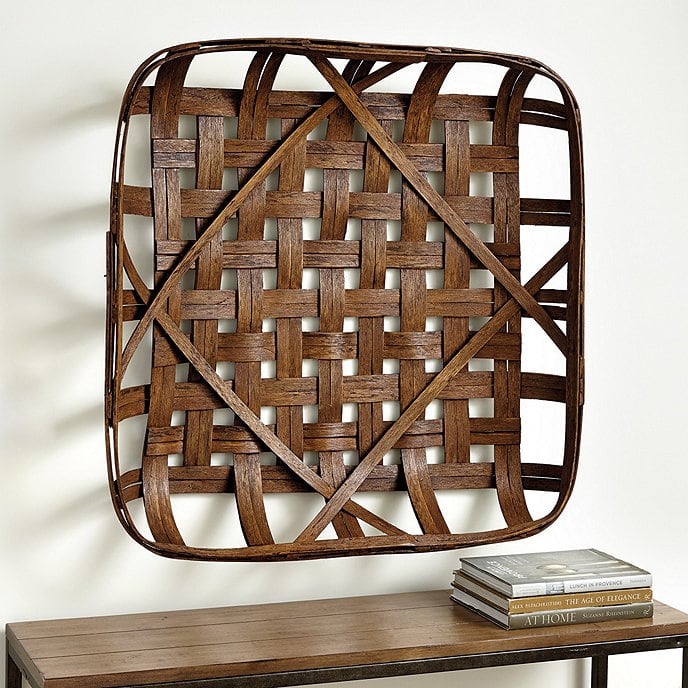 The farmhouse decor style is gorgeous, bright, and airy, but it can often lack texture with all of the white and soft touches.
Find accent decor with rough edges and texture to harden up the room a little bit without taking away from the overall aesthetic. This basket is a great example, it still has the country style decor but feels a little rough.
Use a Water Jug As A Vase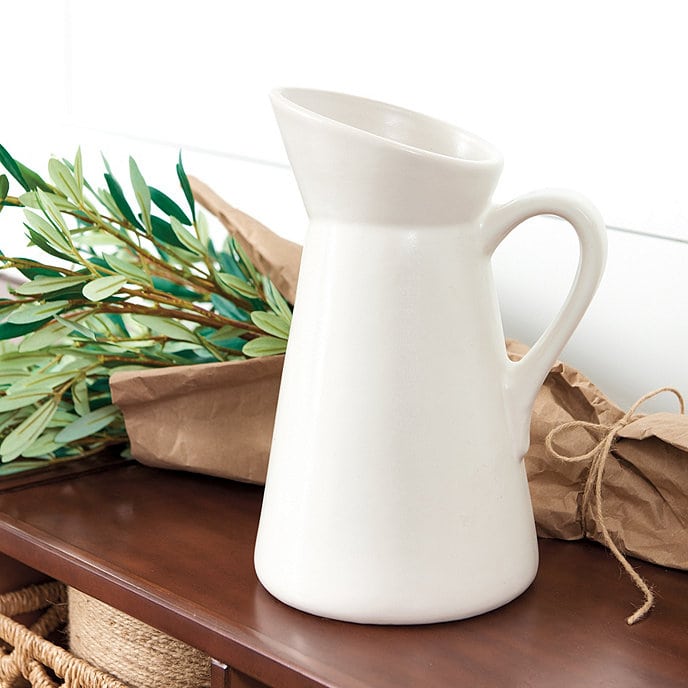 This style focuses on finding household uses for farm objects, so why not use some steel pails or water jugs as vases? Hang it up if there's a handle, or spice up your make-shift vase with a decorative bow.
Lavender is a great plant to put in your pail vases. Not only does the purple color work wonderfully with a warm, neutral color palette, but it smells fantastic and has a calming, soothing effect on people.
Get a Thick Cozy Throw Blanket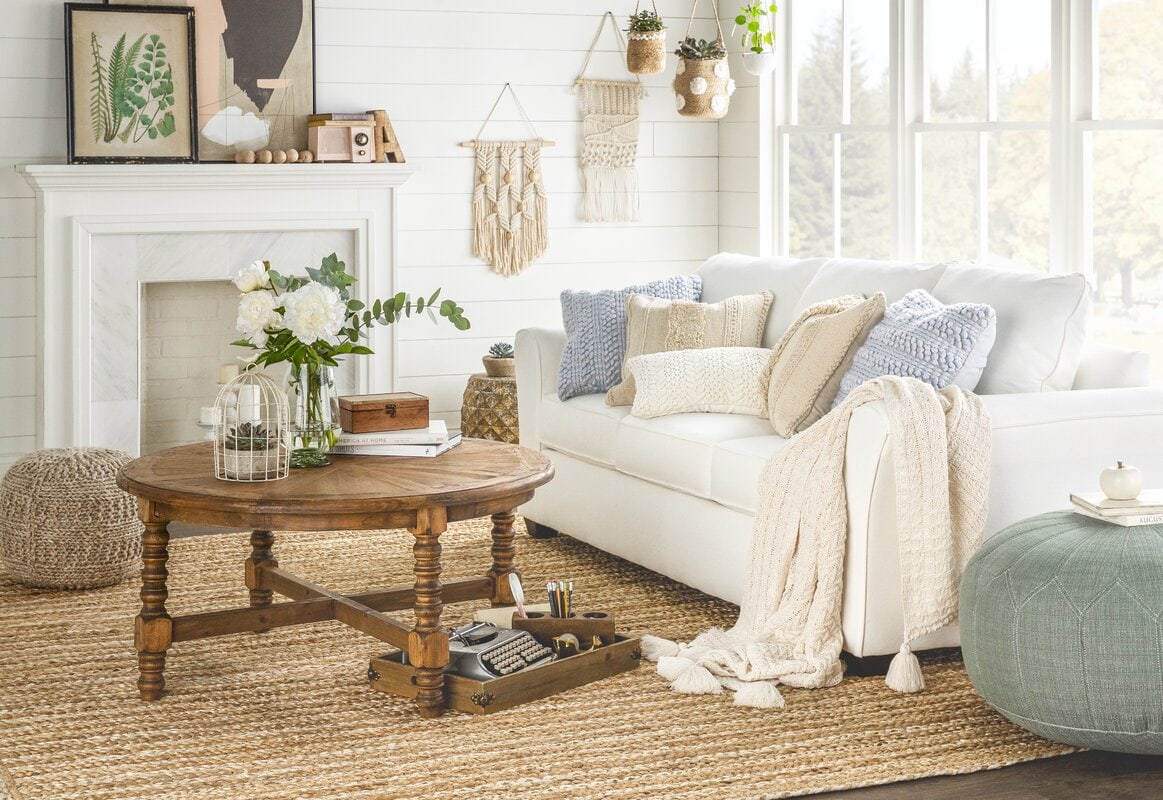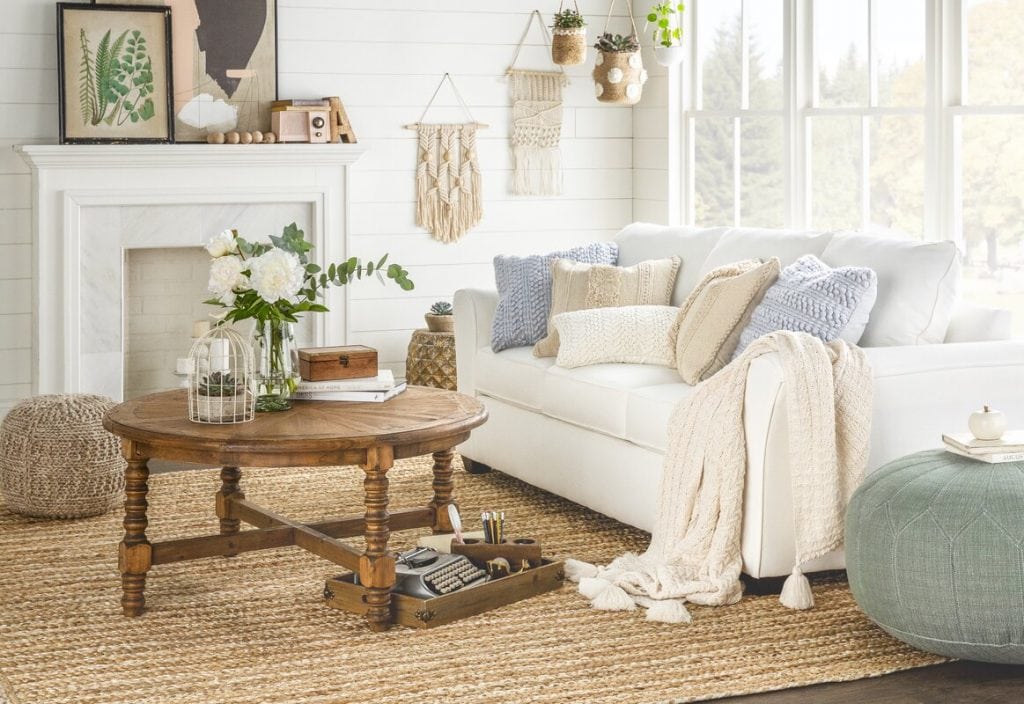 One of the biggest appeals of a farmhouse family room is the inviting feeling you get as soon as you walk in. It makes you want to snuggle up and just let all of your worries go.
That's why you need some thick, cozy throw blankets to toss on the sofa or chairs. They will look great folded up or just tossed leisurely on the couch. Either way, they'll welcome anyone to cozy up and stay a while.
Plants Create an Outdoors Feeling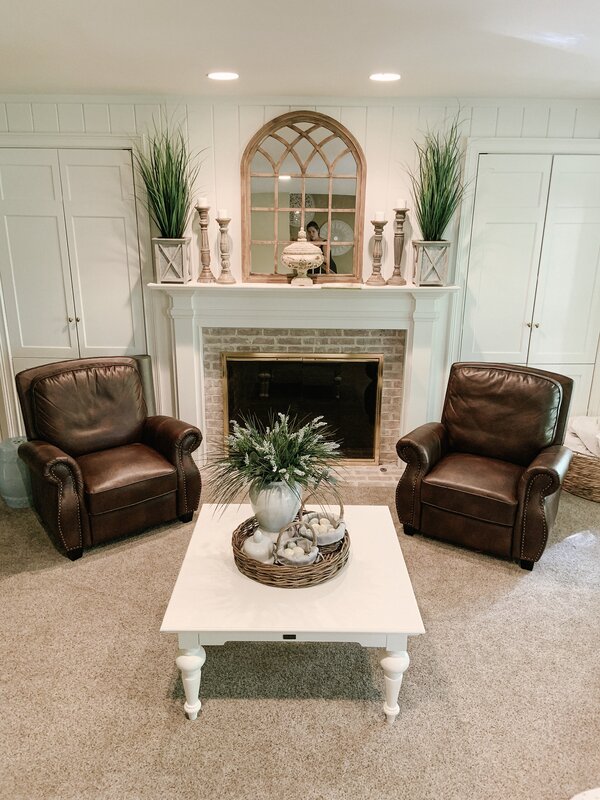 Show your love of nature and the outdoors by adding a lot of greenery to your farmhouse living room. Don't be afraid to go for some different varieties, like big-leaved potted plants, small succulents on shelves, and hanging ivy plants to cascade down in a corner of the room.
The green of the plants in this photo contrasts well off of the brown chairs and white walls, making the room feel fresh and inviting.
Install Sliding Barn Doors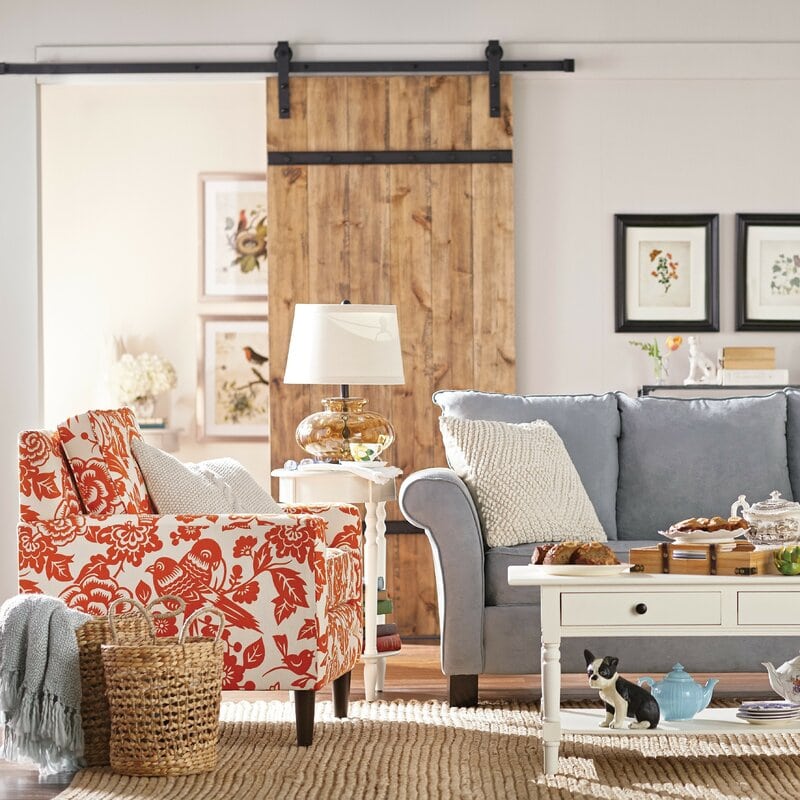 What better way to evoke the farmhouse charm than by installing barn doors in your living room? This is a great option if you have a smaller room and you need to maximize floor space. To open, simply slide them along the wall.
You can get barn doors made from reclaimed wood—look for actual barn board and vintage-looking sliders for the true farmhouse style.
Get Big Comfy Sofas and Chairs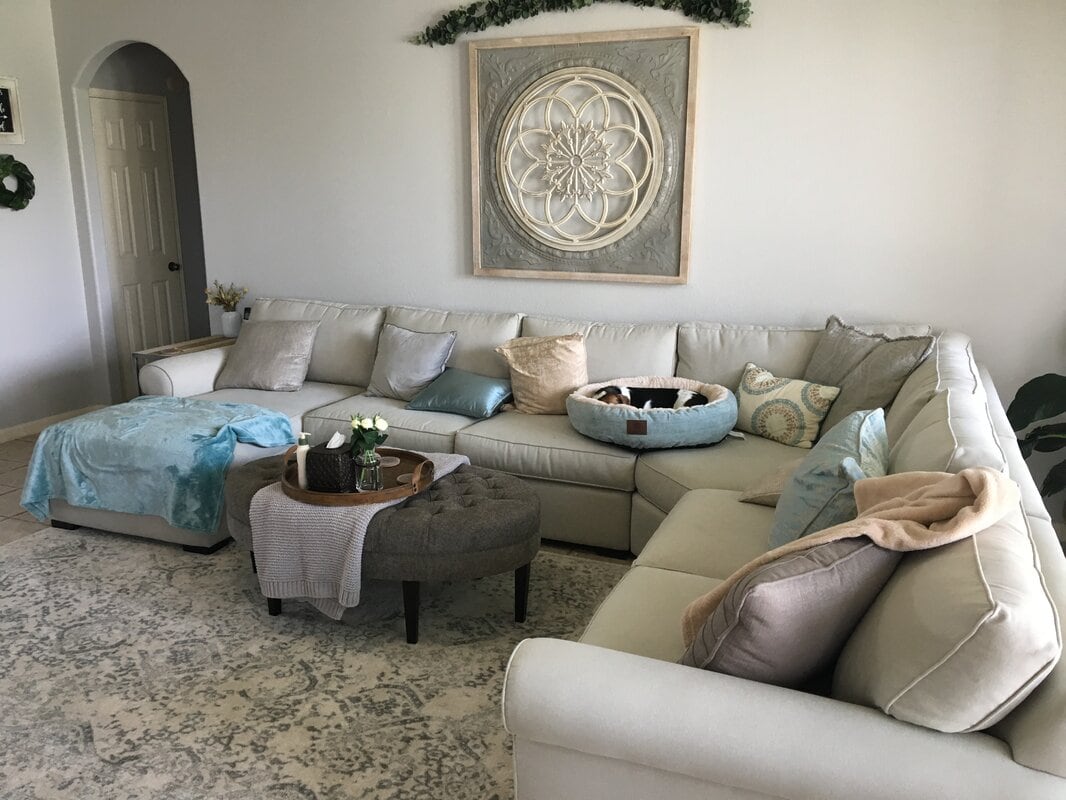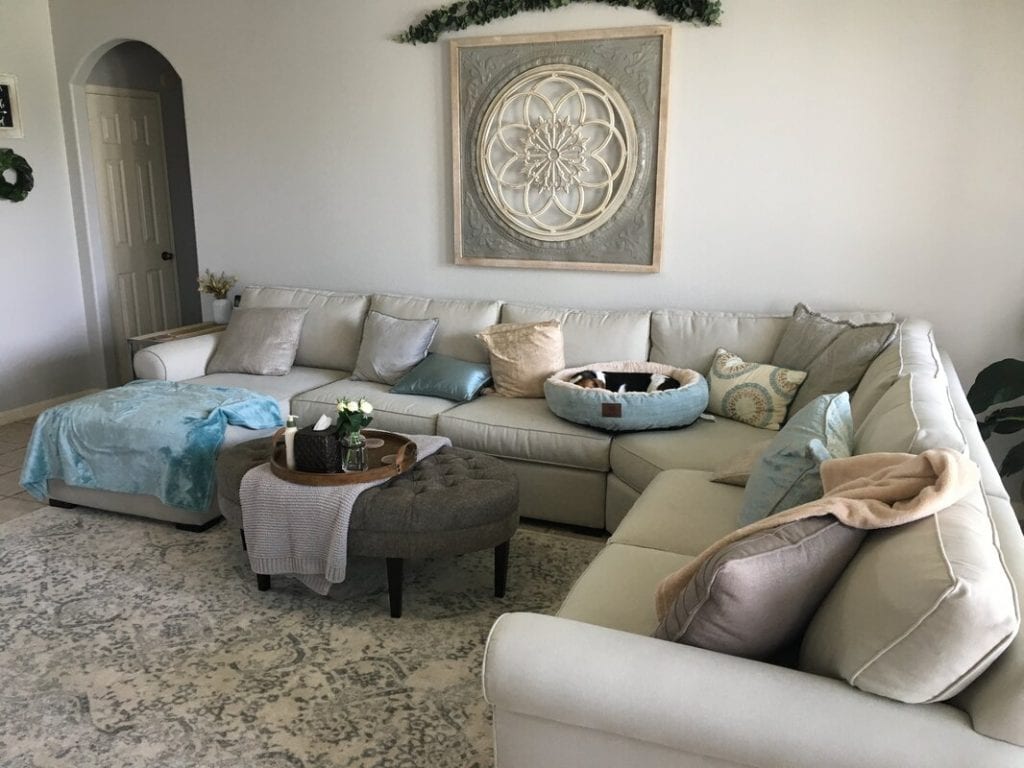 The main focus of this decor type is on comfort and practicality. What says comfort like a big, cozy sofa you can practically sink into after a long day's work in the fields?
Look for study pieces that can withstand the test of time. If you don't think you could curl up and fall asleep in your living room chairs, then keep looking.
Wire Baskets are Great For Holding Knick-Knacks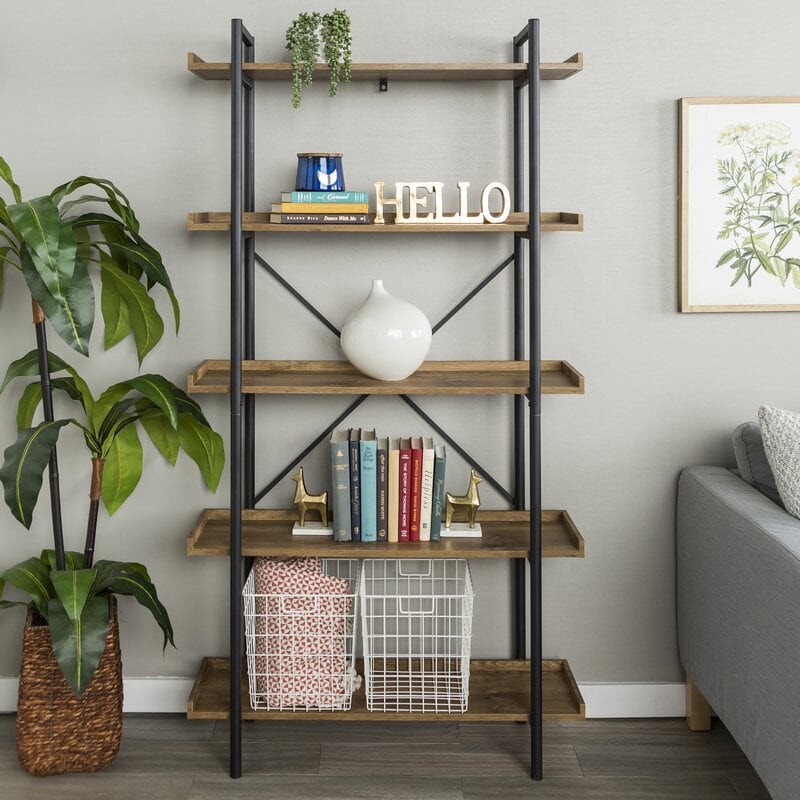 Wire baskets have just the right rustic touch and feel to add to the farmhouse style. You can put them on a shelf, next to the fireplace, or a small basket looks great holding the remotes on a coffee table.
This is an especially great accent for someone going for the industrial farmhouse style. The metal is a perfect contrast again all of the softness of the farmhouse style.
Use a Trunk for Storage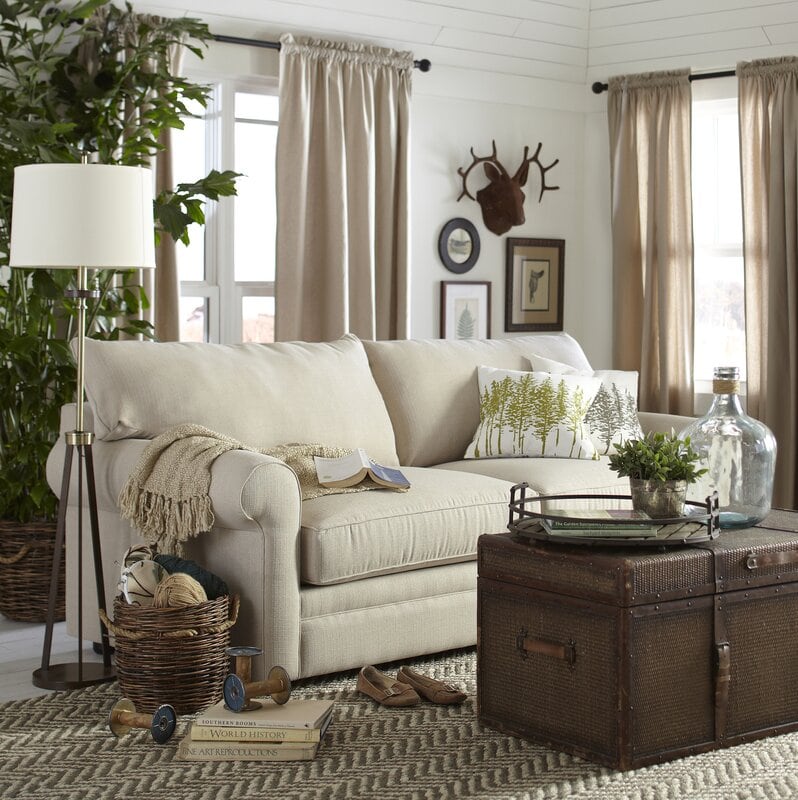 Use a trunk in your living room for true farmhouse charm. Not only does it make a great coffee table, but it also doubles as a storage space for extra blankets and pillows.
Look for a trunk with black vintage hinges or a worn, stamped pattern. Your local antique shop should have a few options to choose from—this is a common item to find while antique hunting.
Don't Forget a Good Coffee Table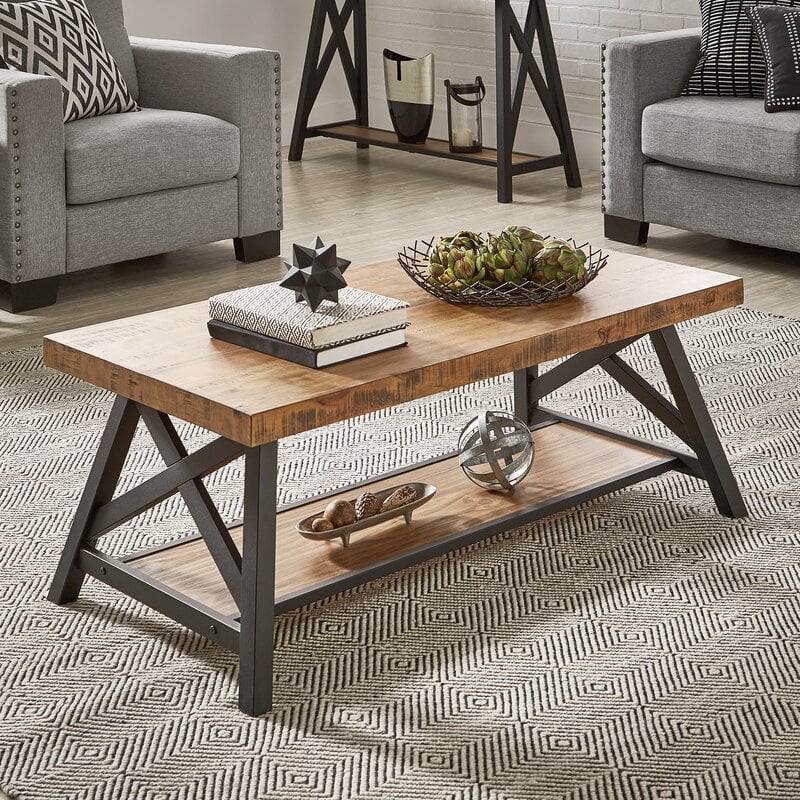 A coffee table like this works well in a modern farmhouse living room because it still has the contrasting dark and light features, but without the rustic-worn look.
A coffee table is an important element in any living room (where else are you going to rest your feet?!), so take your time to find one that aligns with your farmhouse style for a cozy cohesive look.
Get a Ladder Hanging Rack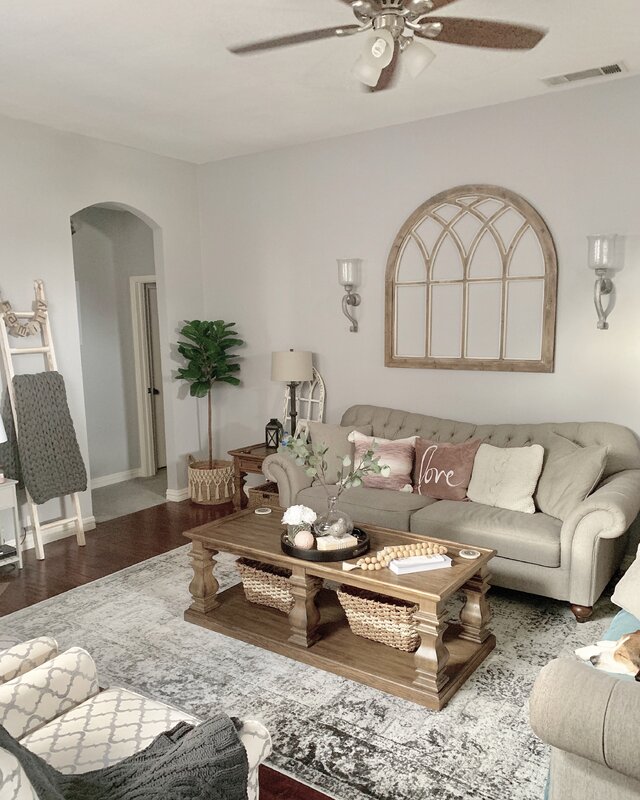 You can use an old to hang some blankets. Lean it against the wall, and drape your blankets over the rungs. In this example, we see that the ladder is nothing fancy, just a basic, weathered ladder that anyone can build themselves.
Although you want some reclaimed wood to make it, make sure that the ladder is sanded to avoid getting splinters or tearing your blankets.
Get The Right Window Treatments
With all that bright natural light that pairs so well with the farmhouse look, comes great big windows that need shades or curtain panels for hot days or dark nights.
Stick to the trademark style with bamboo shades or floor to ceiling white curtains. If you opt for curtains, consider hanging them from an oil-rubbed bronze curtain rod.
Use an Open Basket to Store Pillows and Blankets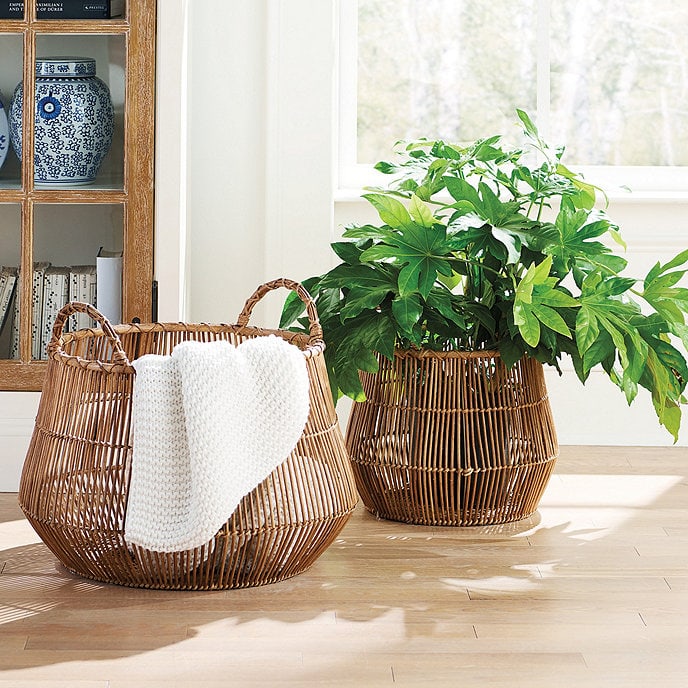 For a cozy farmhouse chic living room, you don't have to hide everything away in drawers. Keep your blankets and pillows in plain sight and stack them in an open basket haphazardly for a casual look.
This is a great way to make your guests feel at home, knowing they can just grab what they want to get comfy on the couch. Be sure to keep at least a few pillows on the couch as decoration, though.
Hang a Statement Light as a Centerpiece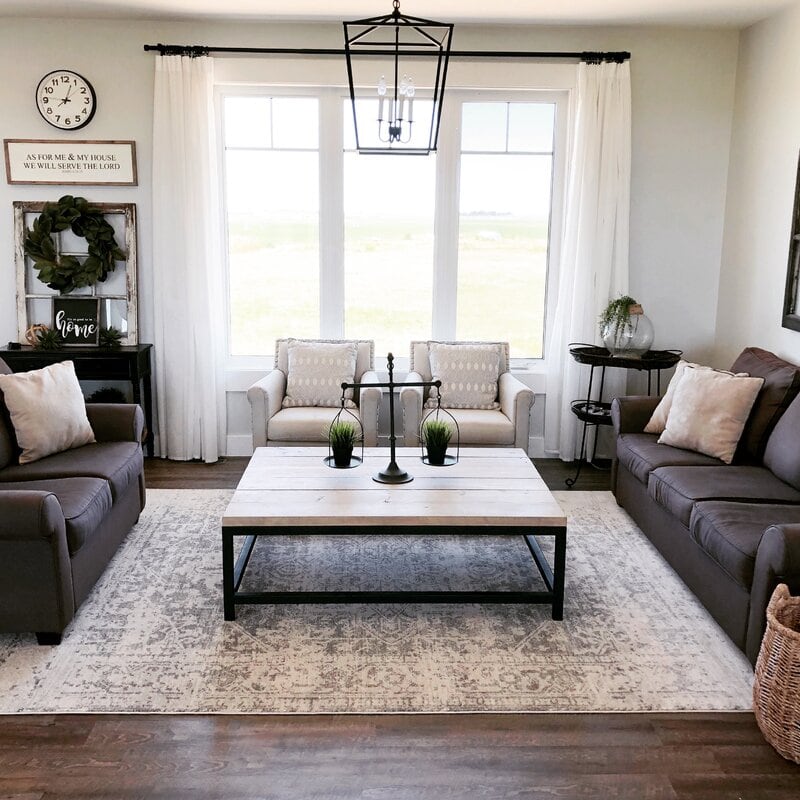 Don't forget to update your light fixtures to really bring in that farmhouse vibe. Although the farmhouse look is about practicality, that doesn't mean you can't have a little fun with your light.
Look for a hanging light with exposed bulbs like in this example, and make sure your light bulbs give off a warm glow instead of a cold white light.
Invest In a Rug to Add Warmth to Wood Floors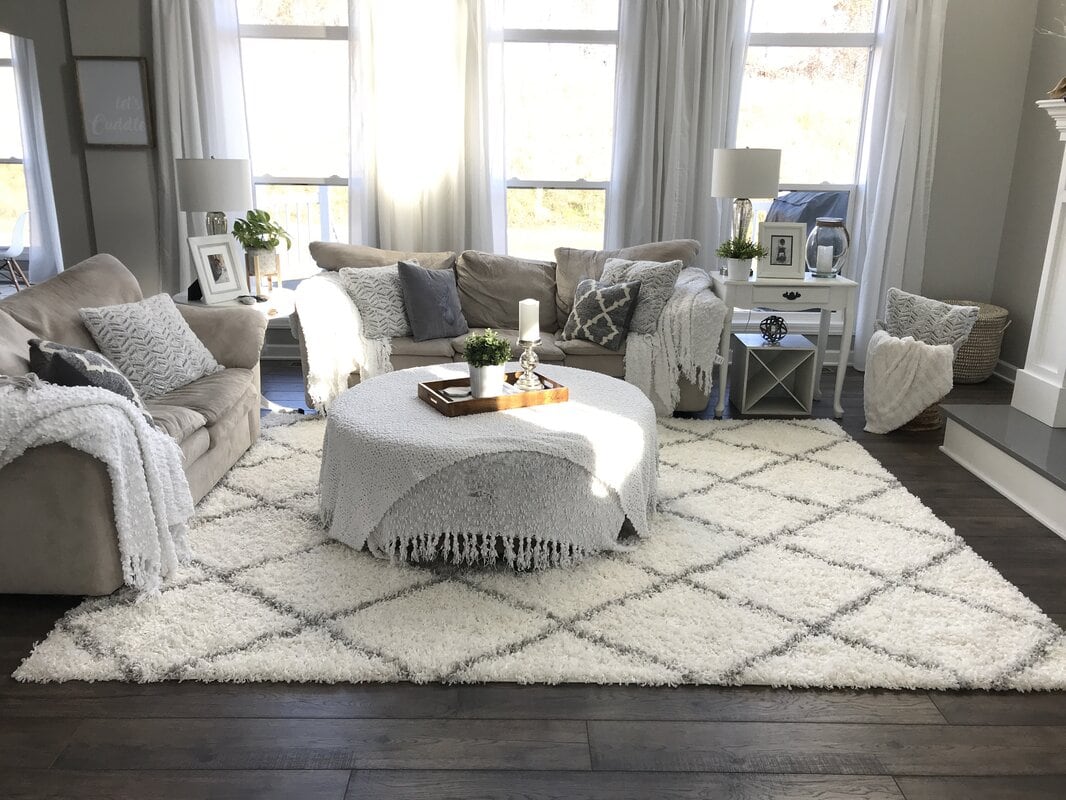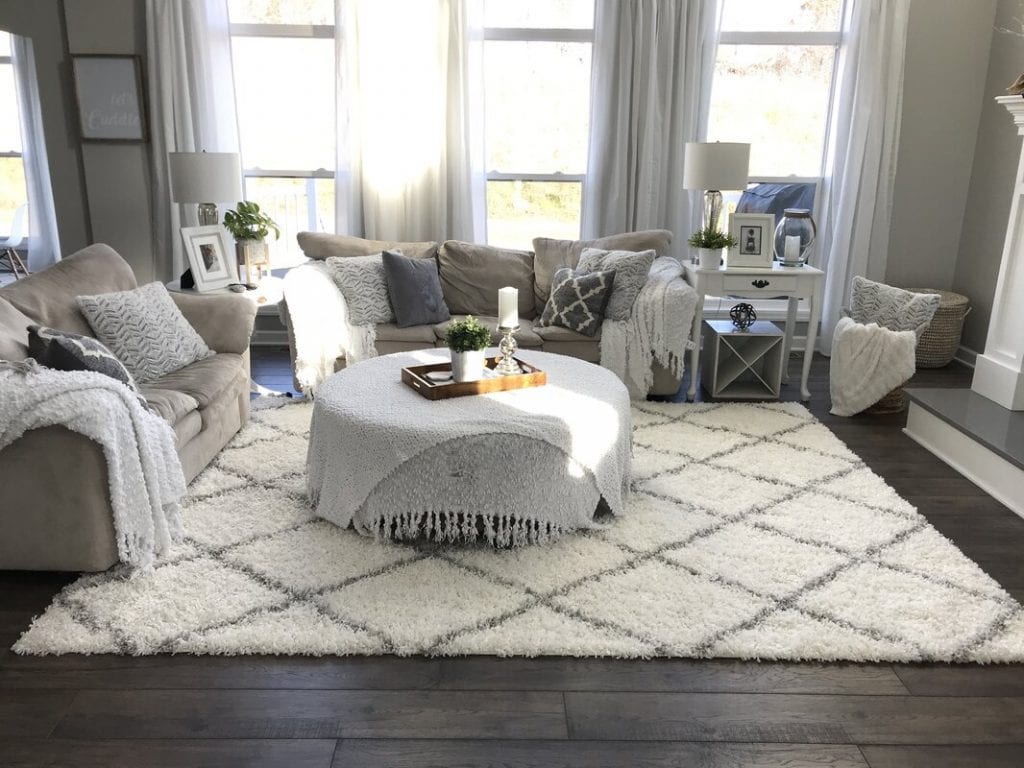 Farmhouse living room floors are usually wooden, so you'll want to add a big area rug. This will make the room look warmer and more inviting. You should look for something warm and cozy that will feel great under your bare feet. .
This rug is a stark contrast to the hardwood floors next to it. It also blends in well with the furniture and brightens up the room.
Hang Some Black and White Script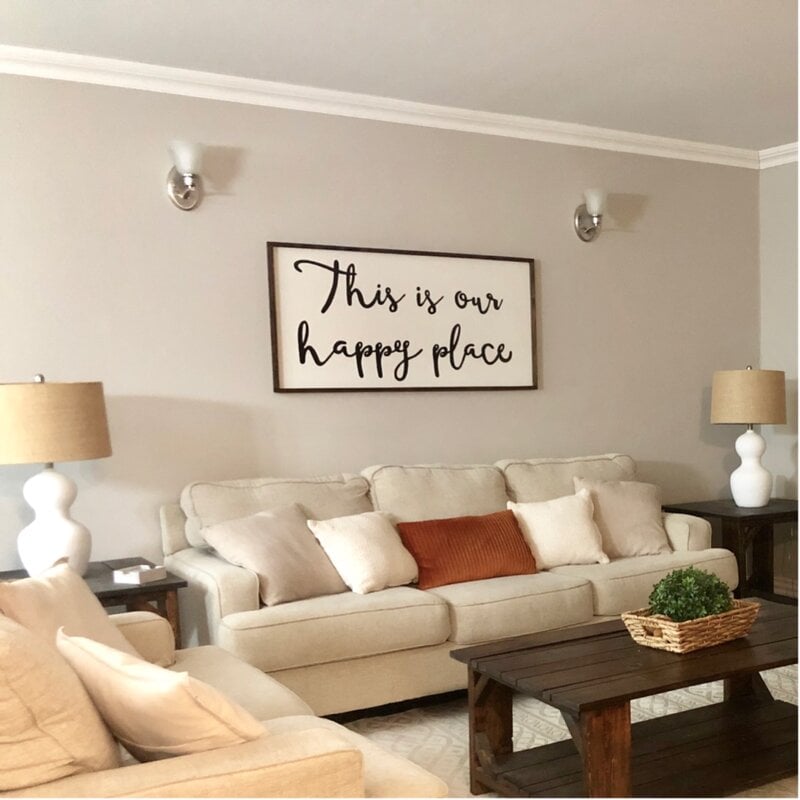 Even a small farmhouse living room needs a bold black and white script print hanging somewhere in it. After all, Joanna Gaines never forgot to hang some motivational quotes in her clients' homes.
You can go for something standard like "Gather" or "Blessed" or find an artist who will make a custom script to inspire you every day.
Add Knitted Pillows to the Couches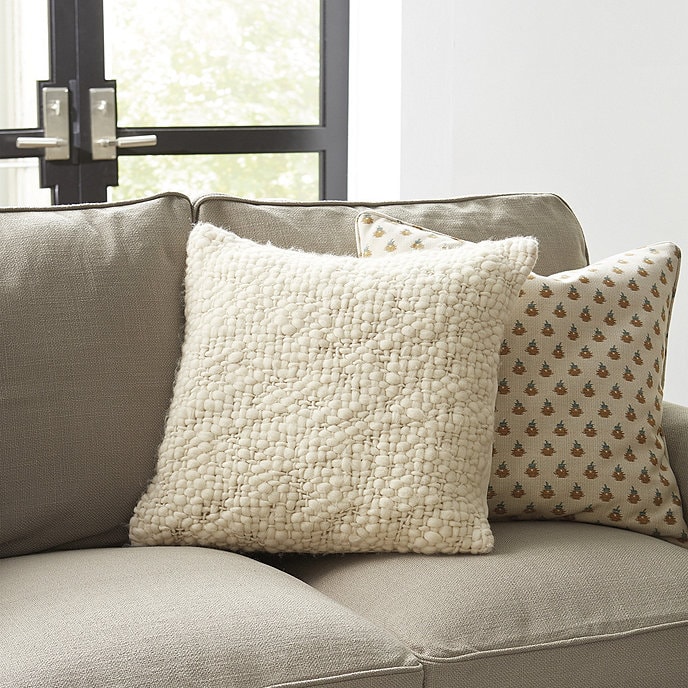 Nothing says comfort like a thick, knit pillow and blanket combination on a couch. It just makes you want to curl up on a cold day with a mug of hot cocoa. Get your own knitted pillows for the couches to add some texture and comfortable appeal.
Don't stop at one pillow for each end, either! The farmhouse couch is usually covered in pillows and at least one blanket.
Final Thoughts
It's quite easy to decorate your living room in the farmhouse style; the risk is that if you do too much the result can be tacky or corny. Focus on furnishing in natural materials with a lot of wood, and decorate in neutral colors. Flea markets and antique shops are a great place to start.
When looking for accessories, only a handful of these ideas here and there is perfect. If you adopt all of these ideas, it might become too overwhelming. At the end of the day, farmhouse living is about simplicity and comfort, so keep those goals in mind.